What is Physical Therapy at Home
Physical therapy is a type of medical treatment that aims to enhance the physical function and quality of life for individuals who are experiencing pain or suffering from injury. It can be done in just about any setting. Most patients, recovering from surgery, injury, or illness, prefer to have the physical therapist come to their home.
Our team of Skilled Nurses, Physical Therapists, Occupational Therapists, Speech Therapists, Medical Social Worker, and Certified Home Health Aides closely work and coordinate with our patients' physicians to address our patient's individual needs. Our highly qualified clinical team's mission is to provide the most patient-focused home healthcare services available.
Providing exceptional In-Home Physical Therapy in Madison Heights, Clinton Township, Birmingham, Farmington Hills, Fraser, Livonia, Southfield, Sterling Heights, Troy, Utica, West Bloomfield Township. We provide home health care in all of these counties in Michigan: Oakland, Macomb, Wayne St. Clair, Saginaw, Lapeer, & Genesee.
Introduction to Physical Therapy
Physical therapy is an important part of healing for many people. It can help with pain, prevent injury, and provide a way to improve mobility. At home physical therapy services are becoming more popular because they allow people access to the care they need without having to travel far from their homes.
Some common challenges that physical therapists evaluate and treat include:
Stroke
Fractures
Spinal cord injury
Carpal tunnel syndrome
Amputations
Arthritis
Many more!
How does Physical Therapy at Home Work?
The therapist will come to your home and assess the needs of the individual. Depending on their condition, they might use tools or apparatus that are not always available in a clinic setting, such as water therapy or resistance bands, to help with rehabilitation.
The physical therapist may also prescribe stretches and exercises which you can do at home between visits.
When necessary, sometimes equipment is sent out to the home, so patients have access to it while receiving treatment, without having to purchase these items themselves.  
On the first visit, your physical therapist will evaluate and assess your overall condition. He or she may take specific measurements to gather information about your illness or injury. Impairments typically measured may include:
Strength
Range of motion
Flexibility
Balance
Joint mobility
Neurological function
Pain
Cardiac function
Pulmonary function
Overall functional mobility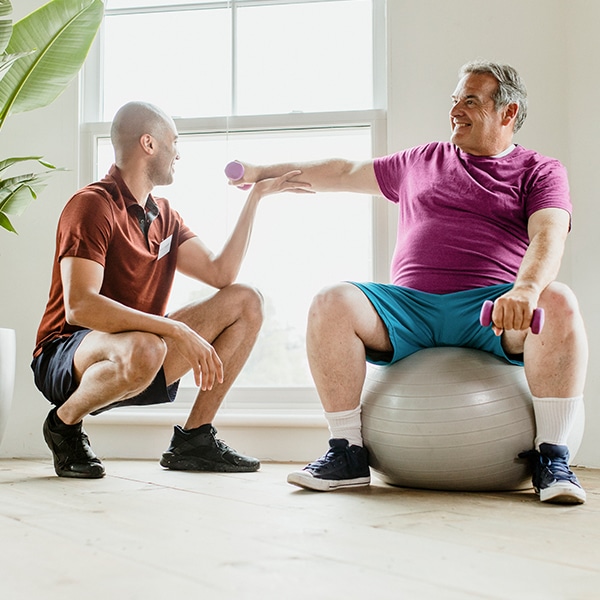 What Does an In-Home Physical Therapist Do?
An in-home physical therapist will work with people experiencing pain or injury at home. They may also help those who are recovering from surgery and need to get back on their feet, as well as elderly individuals who want some assistance living independently.
We know you'll love getting care from our team, but don't just take our word for it, read our testimonials.
Our highly qualified team's mission is to provide the most patient-focused home health care services available.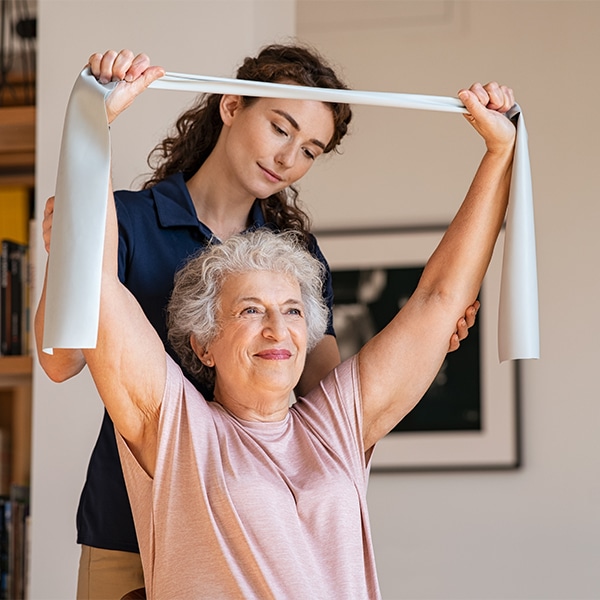 Does Medicare Cover In-Home Physical Therapy?
A Medicare-approved physical therapist will work with patients who are in need of home care. These individuals may be recovering from surgery, elderly people looking to live independently, and those experiencing pain or injury at home. If approved, Medicare will cover 100% of these services.
Why Use In-home Physical Therapy?
There are many reasons why you might want to use an in-home physical therapist.  You may not be able to go into an outpatient location because you're  bedbound , confined to the home, or you might need some assistance with activities of daily living. Physical therapy can help someone get back on their feet and live independently as they recover from an illness or injury.
Who Should Use In-Home Physical Therapy?
In-Home Physical Therapists will provide services for people who have been hospitalized but are now returning home due to the healing process being "almost" complete. They also work with those at risk of falling while in their homes, elderly patients looking for assistance when it comes to mobility and safety issues, individuals recovering from surgery that needs support during rehabilitation (like hip replacement), and more.
When Can Someone Begin Receiving In-Home Physical Therapy Services?
If you suffer an injury or illness that limits your ability to move around normally, you may benefit from physical therapy at home.  Some people use in-home PT services to recover from surgery, while others may need assistance getting into and out of bed or performing other daily activities.
The best time for someone to start receiving physical therapy at home is when they are no longer hospitalized but still require a high level of care with mobility.
If you struggle with a physical issue that hinders your ability to move normally, and you have circumstances that make it a burden for you to travel for care, you may well qualify for in-home physical therapy.
The Best Physical Therapy at Home
If you or a loved one are in need of in-home physical therapy, call the staff at New Century Home Health today. Our friendly staff can help answer questions, collect the right information, and work with your physician to set up services.
We are a proud family owned business and understand the values that keep families together – Care, Dignity, Respect, Empathy and Love.
We have many different home health care services. View all our services and speciality services on our services page.
Our highly qualified team's mission is to provide the most patient-focused home health care services available.